Welcome to St Joan of Arc Parish
For those visiting the website for the first time, we extend to you a special welcome! St. Joan of Arc is a Roman Catholic Parish located in Streetsboro (Portage County) Ohio and is a part of the Diocese of Youngstown. We have over 900 families and that number continues to grow. As you will see on this site, we are a very active community committed to the Gospel of Jesus Christ and the work of the Church. We have numerous ministries and outreach programs as well as wonderful parish staff. Feel free to explore our parish.
May the Peace of Christ reign in your heart!
Family Fall Fun Fest
Join the Parish family for our annual Family Fall Fun Fest at Woodside Lake Park and Campground.
The fun begins at 2:00 on Sunday October 23.
Mother Teresa dedicated her life to helping the poor in India, performed several miracles and won a Nobel Peace prize in 1979. But how hard is it to become a saint?
(CNN)
Mother Teresa, the world famous nun needs little introduction, and her canonization on September 4 at the Vatican in Rome, is expected to draw huge crowds.
But what exactly is a saint and how does someone become one?
We take a closer look.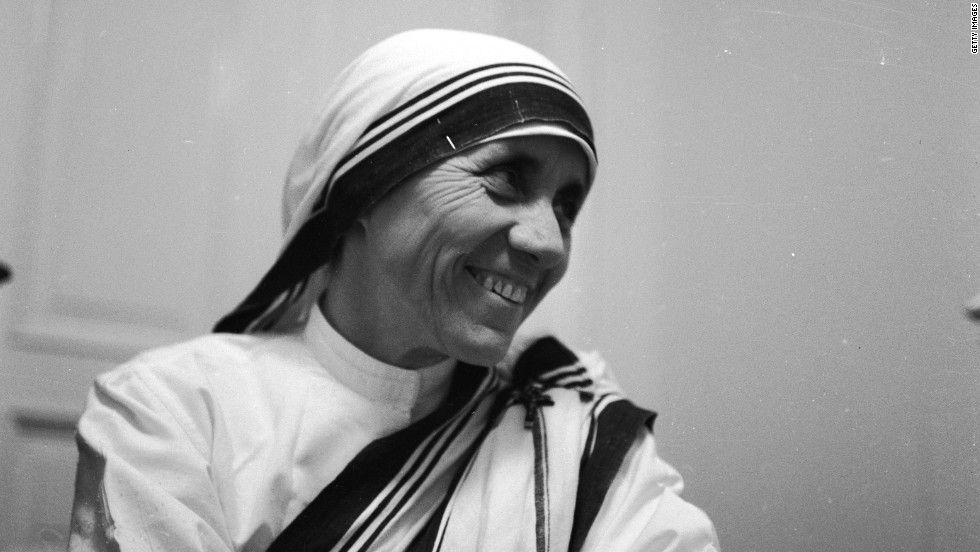 Generations of Faith Registration
Generations of Faith
2016-17
An Exploration of Discipleship
Generations of Faith is our parish's education and formation program, that also serves as sacramental preparation. This program offers the opportunity for the entire family to explore various Catholic topics together.
Here is a light hearted look at last year's program.

Homily from 7/10
Who is our neighbor?
The question asked by a first century person
Who seeks salvation and justification
Is a question that should haunt us in our day!
We who seem to have no problem
identifying our enemies,
seem to have one heck of a problem
Realizing who Jesus says is our neighbor!
Depending on who you are,
Many in our nation can easily tell you
Who the enemy is-
The Muslim
The Jew
The gay
The Black
The Cop
The immigrant
The Rich
The Poor
The Donald
The Clinton
The Pacifist
The NRA
The Republican
The Democrat
The Bully
The Geek
We have a whole list of enemies
Who we need to be rid of
And then everything will be right and just!
If we could just eliminate those who we see
As not sharing our same world view,
The world would be filled with peace and prosperity!
The problem with this type
of scapegoat Thinking is that
the list never stops!
Once we have eliminated one group
With whom we disagree
There will always be another and another-
For there will always be someone out there
Who will want to eliminate us!
You see Hatred begets hatred
And violence,- violence!
Because that kind of
an eye for an eye
And tooth for a tooth way of thought
Does nothing but leave us with a
Blind and toothless society.
Jesus calls us to recognize that our neighbor
Is exactly that person that we
Vilify, distrust or even hate!
In the Gospel parable today
Jesus presents us with the most unlikely of heroes.
In his day, the Samaritan would have been considered
A Vile outcast, interloper,
A heathen enemy of God and the Jewish people,
who the listeners Of Jesus would have expected to be the Robber
NOT the hero!
He challenges his hears both then and now
To NOT JUDGE others with sweeping generalizations
And misguided prejudices.
If we do not adopt this ways of thinking
And believing
If we do not overcome hatred with love-
We are destine to continue in this spiral downward
To a society where fear, not love of neighbor
Is the rule we follow,
And the fences and walls we use to protect ourselves
Will indeed become our self imposed prisons!
From the Pastor's Desk: 5/27
I want to congratulate the members of the Altar and Rosary, their helpers, and the Catholic School Parents for putting on the most successful Rummage Sale EVER! With the generosity of our parishioners and their material donations, they raised over $3600 for our sanctuary expenses; candles, vestments, wine, hosts, etc. Congratulations!
As you are aware, last weekend we participated in responding to the annual Adult Faith Enrichment (formerly Adult Education) Survey. The committee felt that the name change would help to capture the broader experience and goal that it hopes to achieve. The mission of the Adult Faith Enrichment Committee is to provide both educational as well as formational programs and sessions that enhance and enrich the faithful in their experience as modern day disciples.
This was the first year we have broadly used technology to respond to the survey. We received just over 100 surveys electronically and it was amazing that instantly, all of the data that was input was calculated and categorized! Not only does this form of response save a couple steps, but it also helps us to reduce our use of paper. However, every form filled out is so critically important to the formulation of our sessions, so all are valuable. We realize that not everyone has the resources to respond this way. If you were not able to fill out the form last week, below you will find the link to the website, where you can fill it out or the QR code. Extra copies of the paper forms will be in the narthex this week. The results will be collated and the committee will be presenting the final results in the late summer.
It is with some sadness for ourselves, but with great joy for Sr. Eileen, that she will be retiring at the end of June. Sister has been ministering for over 60 years and has been a model of faithfulness to God and the Church. We will be hosting a farewell-retirement reception for her next Sunday between the 8:30 a.m. and 11:30 a.m. Masses. Please plan on stopping by to thank Sr. Eileen for her many years of service to St. Joan of Arc. She will be greatly missed.
Adult ed survey: sjoa-church.org or QR code:
Have a Great week,
Peace,
Fr. Ferraro
Adult Faith Enrichment Survey
Please take a moment to fill out our Adult Education Survey:
From the Pastor's Desk:
I have three very good bits of news to share with you! The first is that we have now gone over the 1000 registered-active families/household mark! We now have 1003 families who belong to St. Joan of Arc Parish! This, to some, may not seem like a big deal, but when many parishes are sadly experiencing a decline in numbers because of population shift or age demographics, we are growing as a result of those same dynamics. Please be sure to welcome our new parishioners when you see them. Hospitality is a crucial element to our continued growth!
Secondly, as I announced last weekend, Bishop Murry has assigned Matt Humerickhouse to be with us as our seminarian intern for a year!! Matt will be here from the beginning of September to the beginning of the following academic year! The specifics of his duties are still being worked out, but it will be great to have him with us again!
Finally and because of your generosity, we have reached our Bishop's Appeal goal! From this point on, any contributions made to the goal, we will receive .50 on the $1.00 back for our parish use.
Now that the weather has broken, (we hope) we are actively pursuing bids to repair the driveway and parking lots. I'll keep you informed on our progress.
Have a great week!
Peace,
Fr. Ferraro
From the Pastor's Desk:
I have heard countless compliments on our recent celebrations of the Easter Triduum. I want to thank all of those who put in countless hours in preparing and ministering to our St. Joan of Arc community. The liturgical ministers of music, the word, the sanctuary, and the Eucharist, along with the volunteers and staff members who prepared the worship aid and environment combined to make our worship dignified and festive. Thanks also to the members of the congregation whose full, conscious, and active participation was, as always, the centerpiece to all of our masses.
This month we have a few events of note. This weekend our CHAOS Youth Ministry will be hosting its annual Joanie's Diner. This is the one fundraiser that our SJOA Youth do to raise money for their activities and especially for their mission trip. Everyone of all ages is invited to attend. On Sunday, the Knights of Columbus will be sponsoring their annual Founder's Dinner. Both events will be at the Stenson Center. On April 24th Bishop Murry will be here to confirm our 27 candidates at 2:00 p.m. Then on April 30, we will celebrate with our First Communion children as they come to the table of the Lord for the first time.
As a parish we are always looking for ways to bring others into our Catholic faith and local parish community! I want to ask everyone to invite their friends and neighbors to come and experience our liturgies here at St. Joan of Arc. If they are not Catholic, we may be able to spark in them an interest in our faith. If they are Catholic, but may have been away from the Church, perhaps they are just waiting for someone to invite them back. It is the mission of the Church to bring others into the joy of the faith we experience and nothing does that better than a personal invitation!
Have a Great Week!
Peace,
Fr. Ferraro
Holy Week Liturgies
St. Joan of Arc
HOLY WEEK
SCHEDULE - 2016
Tenebrae - Wednesday
March 23 at 7:30 pm
Service of Diminishing Light
~ Paschal Triduum ~
Holy Thursday
March 24 at 7:30 pm
MASS of the LORD'S SUPPER
& Adoration
(in the Chapel)
after Mass until midnight
(Please return your Rice Bowls)
Good Friday
March 25 at 7:30 pm
PASSION of the LORD
& VENERATION OF THE CROSS
Annual Good Friday HOLY LAND Collection
Holy Saturday
EASTER VIGIL
March 26 at 8:00 pm
(Please gather in the Hall
to begin the VIGIL)
EASTER SUNDAY
Solemn Feast of Easter
March 27, 2016
Mass Schedule
8:30 am & 11:30 am
From the Pastor
As hard as it may be to believe, but next weekend is already Palm Sunday! As has been our custom, we will begin the liturgies outside, (weather permitting) and process to the church. For the Church, a procession is not just a way getting from one place to another, but is a deeply symbolic act of our spiritual journey toward the Kingdom. On Palm Sunday this procession is distinctive for its spiritual and scriptural significance. On this day we recall and reenact the entrance of Jesus into the city of Jerusalem, to begin his passion. We follow in faith, because although like Jesus, we suffer, we hope to glory in the resurrection! This is why we process. I encourage all of us who are able, to join in this journey!
I really want to encourage you to take this last full week of lent to reflect on your repentance and sacrifices for the season. How have you done? Have you made a difference in your life or in the life of others? Has what you have done for lent been of any interest to God? (See the parish website or app for Fr. Greg Boyle's homily)
During Holy Week, we will have our Tenebrae Service of Diminishing Light on Wednesday March 23, 7:30 p.m. The Mass of the Lord's Supper will be on Thursday March 24, 7:30 p.m. the Passion and the Veneration of the Cross will be on Friday March 25, 7:30 p.m. and the Easter Vigil will be at 8:00 p.m. on Saturday March 26.
I CANNOT ENCOURAGE YOU ENOUGH TO ATTEND THESE DAYS OF LITURGIES! They are the heart and soul of our Catholic faith and they are meant to be experienced by all the faithful. If you have never attended them, I extend to you a very special invitation! Please let me know if you come and have never been here before for the Triduum!
The Portage County Deanery will be hosting its final Communal Penance Service at St. Joseph Church Mantua at 7:00 p.m. on Tuesday March 15. If you have not been able to celebrate the Sacrament of Reconciliation, this will be your last opportunity before Easter.
Next weekend will also be the bi-annual Altar and Rosary Bake Sale. Come prepared to buy some delicious bakery.
I want to thank all of you for your support of the Bishop's Appeal! We are currently at $36,400 and we are $26,566 short of our goal! Please be generous!
Have a Great Week!
Peace,
Fr. Ferraro
From the L.A. Religious Education Congress
An incredible perspective on Lenten observances.
Experiencing this homily was an incredible experience. I hope you enjoy it.
Peace
Rick
From the Pastor's Desk:
As we prepare for the season of Lent, you will notice that there will be a few changes in the liturgy that are meant to enhance the penitential nature of the season. One of the most significant elements you will notice will be during the Introductory Rites.
The General Instruction of the Roman Missal offers 4 options for the beginning of Mass. Typically we, and most parishes in the United States use the option with a Gathering Song and entrance procession, (option 4). This year, during Lent, we will be using option 3 which is the use of "a chant from another collection of Psalms and antiphons, approved by the Conference of Catholic Bishops or Diocesan Bishop, including Psalms arranged in responsorial or metric forms". The brevity of this musical setting does not lend itself for a procession of ministers; considering that, all ministers will be seated prior to the announcements. A secondary effect will be an enhancement of the simplicity of the season. Processions by nature tend to be celebratory and add a degree of solemnity to a liturgy. This simple opening will put focus on the penitential rite, which will be sung as we kneel, that is the penitential posture.
As we have done in the past, silence will follow each reading and the proclamation of the Gospel so that we can prepare our heart to receive God's call to conversion. The mass setting will be unaccompanied by instrumentation as been our tradition. As always, the call to full, conscious, and active participation remains the guiding principle of all of our liturgical celebrations!
This Wednesday, is of course Ash Wednesday and our Masses will be at 8:30 a.m. and 7:00 p.m. and a service with ashes will be at 12:15.
Also this year, being the Jubilee Year of Mercy, our Social Concerns Committee has put together a calendar with some practical daily suggestions for living out Mercy in our every day life. Please keep it and refer to it during February and March. For Church guidelines for fasting and abstinence please refer to the usccb.org website or our parish app.
Have a Great Week!
Peace,
Fr. Ferraro
Former garbage picker challenges eucharistic congress to help poor
CEBU, Philippines (CNS) -- Maria Georgia "Maggie" Cogtas of Cebu told of a childhood without playing, only tough work as a garbage picker at dumpsites, construction sites and on the streets.
Cogtas, 21, also told more than 12,000 people at the 51st International Eucharistic Congress about the massive celebration two weeks ago commemorating the child Jesus, who has been venerated in Cebu for hundreds of years.
"On our peripheries were children scavenging, begging, busy selling cold water, food and candles in the perimeters of our churches," said Cogtas. "As we happily celebrated the child Jesus, other children needed our attention. What have we done for them? Or are they also receiving the pathetic and emotionless look I got from people back when I was a street child?"
Cardinal John Olorunfemi Onaiyekan of Abuja, Nigeria, posed a similar question to the delegates.
"Can we celebrate the Eucharist together in the International Eucharistic Congress with all pomp and pageantry and (then) allow everybody to crawl back into our respective oases of poverty and misery, or affluence and indifference?" he asked.
Cardinal Onaiyekan referred to the Gospel of the five loaves and two fishes that Jesus multiplied to feed a crowd of 5,000 with plenty leftover. He said Jesus feeling pity and concern for the hungry crowd showed mercy and nudged his disciples into action.
"Do something!" the cardinal exclaimed. "Do not say the problem is too much, you cannot feed everybody or that what we have would not make any difference. Jesus does not want to hear that. And God is challenging us: 'Do the little you can with the right spirit and God will do the rest.'
"The miracle of the loaves can be repeated over and over again in our world of today if there are generous hearts among the disciples of Jesus ready to share what they have with those in greater need," he said.
Cogtas said before she became an active advocate for street children, she was so caught up in her pain and suffering that she barely made time to pray. She and her twin brother were the youngest of seven neglected children, abandoned by their father, with an absent working mother who eventually also left them.
"We had no choice but to fend for ourselves," she said.
The recent psychology graduate said she was able to pay for high school with what she earned from scavenging. Then a Catholic organization that works to evangelize public servants, voters and young people offered her a college scholarship. Dilaab (Flame) Foundation scholarship recipients are required to give time to street children every week. To do this they had to go through training and formation.
Cogtas said seeing the street children accept their brokenness from abuse and neglect helped her overcome rejection, and she learned to stop being ashamed of herself. She said she was especially ashamed of her excessively sweaty palms, which often made people recoil from her touch.
As her confidence grew, she also developed a gift that only her hands could perform: drawing caricatures of people, which she said quickly gained acceptance from peers who had otherwise shunned her. Cogtas gave Cardinal Onaiyekan a caricature; Jan. 29, the day of his presentation, was also his birthday.
In the five years since Cogtas started working with the children, she noted how confident they had become. She said 90 percent of them were in school and "dreaming big."
Dozens recently received first Communion, she said. At first the children wanted to receive Communion out of curiosity, but now they "greatly understand that the bread and wine is Jesus."
"I am proud to say that I am one of the street children," she said. "I came from a broken family. I had no more hope of going to school. But thanks to these street children they became a gift for me. I encountered God and was able to heal myself from some bad experiences."
Cogtas expressed hope that the children would become public servants, such as police officers or teachers, engineers who could build homes for the poor, or priests who could evangelize. She said she wished their parents could find steady work so the children would not have to go to school on empty stomachs, without school supplies, an umbrella or rain shoes for the rainy season.
"How many have enough electricity to study?" she asked. "How many have someone to help them with difficult lessons? And after studying they could sleep soundly with a full stomach?"
Cogtas called on the church to help.
"What can we do so that they may not lose hope in God, if at times nobody can support them," she asked. "There are a lot of street children that live outside our parishes. Can we not turn our parishes into child-friendly parishes with walk-in facilities, where they could take a bath, eat and study? Our churches are the closest place where they could see God. But they can also be the closest place where our children can see their dreams."
January Adult Education
Participate in our January Adult Education video based conversation.
Video
Fr. Thomas Rosica, CSB: The Pope, The Synod and the Response of Mercy
Upcoming Events
Looking for more information? Check out the bulletin or contact the church office at 330.626.3424.
Promote our site. Like us!